The SteelSeries Rival 710 is a reasonably standard mouse with a few exciting features. The top of the scroll wheel has an embedded RGB LED that can be set to any color, and it does have some software that allows you to customize certain aspects of the sensor, including DPI settings. It's solidly built but not quite up there with other mice in terms of performance quality. Nevertheless, this might be worth looking at for those who want something different from their next gaming peripheral.
The Head of the Household. SteelSeries has created a mouse with all the performance you need beneath the hood and some new and exciting features to go with it!
SteelSeries has announced a follow-up to the Rival 700 mouse, including haptic reactions and a side-mounted OLED screen. The mouse was hailed as the world's first modular mouse, and these capabilities have been carried over to the Rival 710, which SteelSeries describes as "the world's most sophisticated gaming mouse."
The improved Rival 710, like its predecessor, is a modular mouse. I'm not sure whether Steelseries has nailed the gaming mouse here, but I like their willingness to try new things. Making more bespoke mice in the future may be a very significant way to go. Because of its ergonomic design and soft-touch texture, the 710 has some weight, which is evident in games where your head is on a swivel (CSGO), but it's a comfortable mouse overall. The performance was outstanding owing to the TrueMove3+ sensor update, and it was a pleasure to use for both gaming and work.
Pros
Attractive Design – It has the appearance of a gaming mouse.
The ergonomic form makes it very comfortable.
Excellent tracking — the new TrueMove3+ sensor is fantastic.
High-Quality — Well-constructed using high-quality materials.
Modular – Customization possibilities.
Tactile Notifications — Vibration/RGB alerts in-game.
Cons
Weight – For some, this item may be excessively weighty.
Thumb button – It seems useless to have an extra unreachable button.
Price – Additional features come at a cost.
Mouse Size & Weight
136g in weight
Medium in size
12.4cm (4.9 inches) in length
7.2cm – 2.8 inches in width
4.2cm – 1.6 inches tall
Right-hand orientation
Mouse Technology
TrueMove3 sensor
SteelSeries mechanical buttons (60m)
200-12000 DPI
125, 250, 500, and 1000 Hz polling rate
Wired connection
Braided cable
2m cable length
What is included in the box?
SteelSeries packaging is relatively basic yet carries enough flair to have you give it a second glance. On the front, there is a picture of the product and some mouse characteristics.
What you will receive:
Mouse Rival 710
braided USB cable (2m)
PVC USB cable (1m)
Guide to Product Information
Size & Weight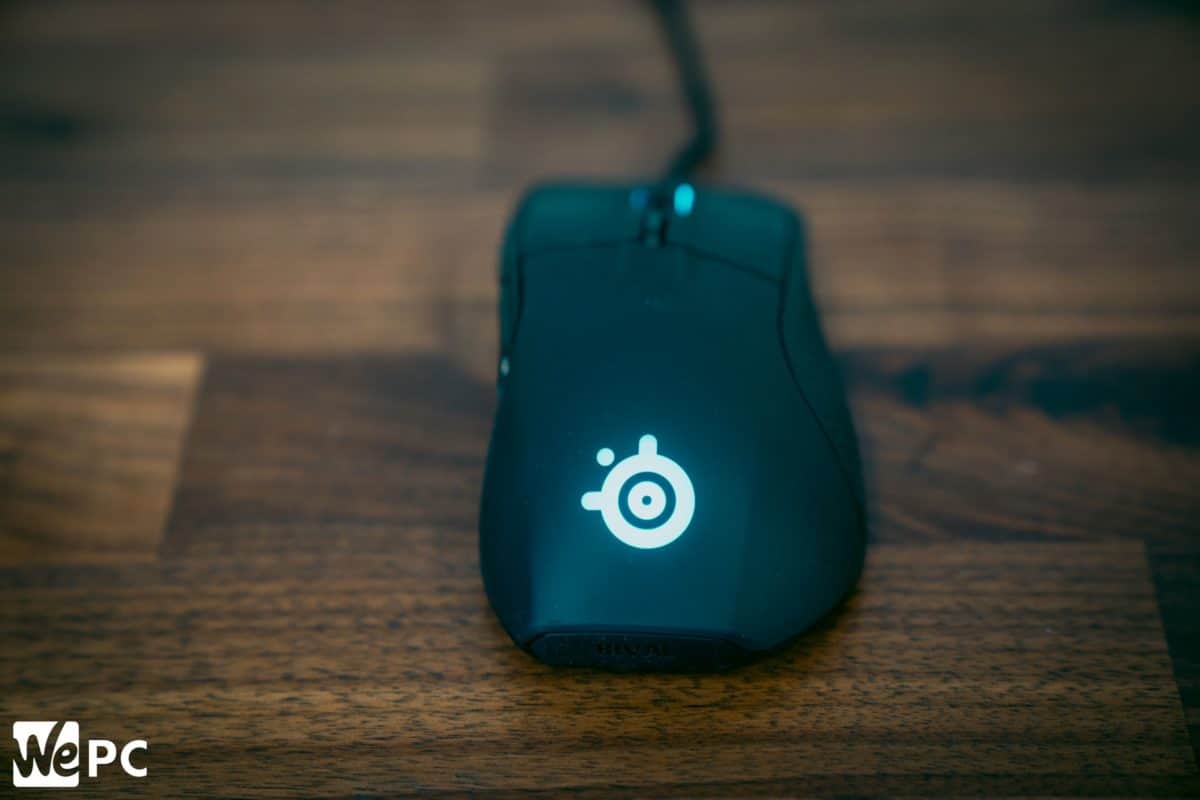 The Rival 710 is a large-sized mouse with a medium-sized body. It's the same length as the Logitech G603/703 at 12.4 cm. However, the significantly higher hump in the center (4.2 cm) and its chunkier body width seem longer than the Logitech mouse (7.2 cm). The mouse is surprisingly simple to operate in all grip patterns. Despite its size and weight, however, it may be taxing. It's worth mentioning that the form of this mouse gives it the appearance and sensation of being much larger than it is, which I'm not sure why SteelSeries would desire.
The Rival 710 weighs 136 grams without the wire, putting it in the same weight range as the Corsair m65 Pro and Roccat Tyon. Both are not light to use. However, many people like an excellent hefty mouse, which may be a better alternative than its heavyweight competitors. The weight can't be customized like the Rival 600/650, but that's not necessarily a negative thing since the more I used it, the more accurate it became. The weight helped with the occasional flick or one tap, but it was more difficult to micro-adjust for spray downs, and it tired my arm/wrist after a few games. It was only in CSGO that I had difficulty with the weight owing to a large number of corners to check regularly, but it was a high-performing mouse in PUBG and much better in Dota2.
Shape & Texture
The Rival 710's general form is identical to that of the Rival 700, and its design is not dissimilar to that of the Rival 310. It's a bulky mouse with defined edges and modular components that play an essential role in the design. It features a high-profile curvature that softly dips to the front buttons before abruptly disappearing towards the rear. The left side is fantastic, with a bit of groove that perfectly accommodates my thumb while also offering more grip thanks to the rubber textured surface. The right side of the mouse, like the Rival 310, is quite ergonomic and slopes outward, providing a good resting spot for your ring and pinky. THowever, theform at the back of the mouse didn't appeal to me since the defined edge where my thumb knuckle rests obstructs my grasp and compromises comfort by digging into my hand (bottom left corner at the rear of the mouse). This might be due to my office palm grip or the palm/claw combo when playing, but the Rival 310 had a more rounded ergonomic edge and didn't have this issue.
The texture is similar to the Rival 700, and it has the same soft-touch feel material that I enjoyed on the Rival 600. The soft-touch finish is all over the mouse, and it's a material I prefer over plain matte plastic or the slicker smooth plastic. The soft-touch feel is nice, but it attracts dirt more efficiently than its more brutal plastic siblings. This isn't a problem, however. The modular structure of this mouse comes into play if you don't like the soft touch and want a stricter plastic for a firmer grip. You may change the palm cover on this mouse with a matte/glossy black replacement at an additional cost.
Buttons
SteelSeries' proprietary mechanical switches of the Rival 710 last 60 million clicks (same switches as the Rival 650) and feel amazing. They have a pleasing click and a little actuation force, and they are responsive. The top buttons are separated from the mouse by SteelSeries"split-trigger,' which means they move independently of one another. This feature doesn't increase performance, as I can determine, but it is a beautiful design element.
The mouse features seven customizable buttons, a standard number these days. The scroll wheel is clickable and lies relatively low in the mouse, similar to the Rival 310. When scrolling, the wheel provides tactile feedback and is slower than other wheels, which I enjoy since it makes it simpler to swap guns properly in a game like CSGO.
A DPI button is located just behind the wheel, and it allows you to choose between two preset DPI choices that you may adjust in the SteelSeries Engine software. The 710 also has three thumb buttons that feel solid and trustworthy. The thumb buttons feature a beveled edge that makes sliding your thumb up and actuating them simpler. Even for those with hands comparable to salad fingers, there is a thumb button that is out of reach. I'm not sure what it's for, but it's an additional button.
Cable
A braided 2-meter long cable is included with the Mouse. The wire is somewhat thicker and has a coarser braiding texture than the one on the Razer Deathadder Elite. The wire fits through most of the bungees I tested, but it did slide through the smoother economy one, as I had expected. If you need to put it away or replace it with the PVC cable in the package, the wire is simply removable. The rubber cable is shorter (1 meter), and clients may choose between the two to fit varied installations. The shorter PVC cable is the same as, the longer one, but without the braiding, so it's thinner, but it still sat in my Zowie Canada with minimal movement.
Sensor & Performance
SteelSeries' newest sensor is at the core of the Rival 710, and it's faultless. The TrueMove3+ sensor is found in the Rival 310 and 600 and is now available as a modular component, although I'm not sure why you'd swap it out for the Rival 700's older laser sensor. It's identical to the PMW3360 in that it has 12,000 CPI and a 350 IPS speed, but it has better raw tracking from 2000 to 3500. This sensor provides 1 to 1 precise tracking without adding a delay or compromising jitter reduction. You may adjust the program's CPI, ranging from 100 to 12,000 in 100-point increments.
I've tried a number of SteelSeries mouse with this sensor and have yet to have a problem; it seems to work flawlessly every time. It was unusual to use this mouse since the sensor allowed me to follow opponent heads quite accurately and snap to a target with ease. The issue for me is the mouse's weight; if it were 15 grams lighter, it would be ideal since, although the grip isn't my favorite, it is still comfortable. The mouse's in-game performance was unsurpassed, and if you're concerned about the weight, the Rival 600 is a nice mid-weight choice, while the 310 is a lightweight option. The only drawback to this mouse is its weight, however despite this, it glides over my fabric pad with ease, and if you like heavier mice, this might be a good choice.
The Rival 710 is distinguished from its rivals by the presence of an OLED screen on the side and the ability of the mouse to provide tactile and visual responses. SteelSeries GameSense powers these features, which were carried over from the Rival 700. The OLED is a bit of a gimmick, but it's sort of amazing. You can customize the display with any hand-drawn image, which is funny (I swear I'm not childish). SteelSeries has various custom pictures available for download, as well as photos generated by other Rival 710 users. Although you won't be looking at numbers like health or average damage per round (ADR) on the OLED in-game, I appreciated seeing my KDR on the mouse at the conclusion of a competitive battle.
The RGB lights on the mouse may also serve as a visual alarm. The lights even had a default setting, which I was unaware of, but when playing CSGO, the light in my scroll wheel would display me my health and flash when it reached 10%. It's not a function I use much, but I enjoy it. The color of the logo changes depending on how much money I have, but the logo lies beneath my palm, so I'm not sure what the purpose is, but you can customize all of this via the program.
Aside from the visual indicators, this mouse has another intriguing feature: haptic alerts. The tactile notifications function in a similar way as the lights and may be used in a variety of games. I initially noticed this in CSGO when the mouse vibrated in my hand at the start of the round. Oddly enough, I figured it was a bit of grit beneath the mouse, so I continued cleaning my mouse pad until I realized it was doing this. I didn't mind this feature after I realized what was going on, but it's much better suited to games with cooldowns like Dota or Overwatch since it can provide you an early signal that ability is ready to be triggered again. That isn't to say it isn't useful in CSGO; there is a function that allows you to configure it to buzz when you run out of ammo, reminding you to reload. Please check our software guide for a complete list of modification options for this feature.
Software for Mouse
You can tweak your DPI settings, remap buttons, and play around with the RGB lighting effects in SteelSeries Engine 3. Surprisingly, the program allows you to tweak the LOD detection and the degree of angle snapping your cursor has, which may help you sketch but won't help you in-game. Remember that you can entirely customize your tactile alerts in the program for a number of games, including discord!
You may customize the notifications for certain games by going to the APP page in the program. You can customize the mouse for various programs here, and it gets fairly thorough. If you play Counter-Strike: Global Offensive, for example, you may add lighting or tactile notifications to:
Illumination
Health
Ammo
Rounds of Death
Headshots
Blindness caused by a flashbang
Money
Kills in the Match
Armour
Helmet
Tactile
Health
Ammo
Rounds of Death
Headshots
Blindness caused by a flashbang
Grenade in Hand
Death
Reloading
A bomb has been dropped/picked up.
Switching Weapons
Not all of these notifications are beneficial for professional Counter-Strike players, but I gave them a try and found the ammunition alarm to be very useful in a tight circumstance when I forgot I only had one bullet remaining and wasn't going for the kill. Also, when you pop someone, the OLED displays the famed CS headshot symbol, which is incredible.
Conclusion
SteelSeries' quality is good overall, but at roughly £100/$100, it's at the top of the gaming mouse market. It has a lot of unique features and a gorgeous look. Although the form is pleasant, there are many better ergonomic shapes for right-handed gamers available, most of which are less expensive than the Rival 710. I believe the price and weight are deterrents for some people; if you think it's too heavy, I'd recommend the Rival 600, which has the same excellent sensor, switches, and soft-touch surface. If money is a consideration, the Deathadder Elite is roughly half the price, with a little poorer sensor but better weight distribution and a more comfortable ergonomic form. The mouse has a few different characteristics that make it stand out. If you want to personalize your mouse with a bit of picture or gif on display, the 710 is your mouse. Perhaps you appreciate the tactile reactions the mouse provides in various applications, but the main thing to remember is that if the weight isn't an issue for you, this is a high-performing mouse that won't let you down and should be considered.
Frequently Asked Questions
Is SteelSeries rival 710 worth it?
A: Yes, the SteelSeries Rival 710 is worth it. It has a great design with RGB lighting that can be customized to your preferences and also comes with an exclusive game mode called Rival IQ. This unique feature allows you to balance responsiveness and accuracy in any game you're playing on your mouse, so they don't become too difficult or easy for you.
Can SteelSeries rival 710 drag click?
A: The SteelSeries 710 is not a rival for the Dragon, but it has an anti-ghosting feature that allows you to command multiple actions simultaneously.
Are SteelSeries mice better than Logitech?
A: This is a tricky question to answer, as it depends on your preference. Some people might prefer the SteelSeries mice because they are slightly more customizable than Logitechs. OOn, the other hand, others may choose Logitech mice due to their reliability and customizability with different programs such as Discord or Photoshop that use them often.
Related Tags
steelseries rival 710 reddit
SteelSeries rival 710 release date
SteelSeries rival 310 review
SteelSeries rival 710 reviews Reddit
SteelSeries rival 710 vs. 600