The G703 by Logitech is a wired gaming mouse meant for PC, but it quickly transcends this limitation. With its high-end performance and ergonomic design, the G703 will give you an edge in any game or application you use.
Logitech brings an ergonomic joy to the table in the shape of the G703, which is essential in style but lethal in performance.
Logitech has created an ergonomic dark horse with the G703 wireless mouse. The G703 uses the same Lightspeed wireless technology as the G903 and G Pro, which results in a 1ms report rate, which is rather outstanding. My palm grip fits snugly with the curve of the G703, which is ergonomically suited for the right hand. It's pretty pleasant to use, and at 107 grams, it's light on the mouse pad. If the G903 was a little too pricy for right-handed gamers, this was Logitech's first wireless mouse that included the Powerplay wireless charging capability.
The G703 feels and looks like a newer version of the G403, essentially the same mouse with improved wireless capabilities. It works similarly, and the mouse was simple to get used to. It has the PMW3366 sensor, which we've seen in previous mice and found faultless. The mouse costs roughly £80/$80, comparable to the G900, but I liked the G703 by a country mile since it is intended for the right hand. The G703 is a strong candidate if you're seeking a technically sound ergonomic mouse or want to take benefit of the Powerplay mouse pad while conserving money.
Pros
Ergonomic Design – Sits in hand nicely.
Sensor – A sensor with a high level of responsiveness.
High-Quality – The product is well-made and has a sturdy feel about it.
Intuitive and user-friendly software.
Logitech's Litespeed technology is used for wireless performance.
Powerplay supports wireless charging.
Cons
Bottom Heavy – Felt slightly unbalanced.
Only for right-handed people.
Mouse Size & Weight
107g in weight
Medium in size
12.4 cm – 4.8 inches in length
6.8 cm – 2.6-inch width
4.3 cm – 1.7 inches tall
Right-hand orientation
Mouse Technology 
Optical sensor: PMW3366
Omron D2FC-F-K Buttons (50M)
200-12000 DPI
125, 250, 500, and 1000 Hz polling rate
Wireless connection
24-32 hours of battery life
What is included in the box?
The Logitech mouse does not come with thick card boxes or fabric tabs. It came in a plain, discreet package and, like other Logitech devices, oozes practicality.
You'll find the following items inside:
G703 Wireless
The nano receiver
Adapter USB
USB cable for charging
Weight: ten grams
Size & Weight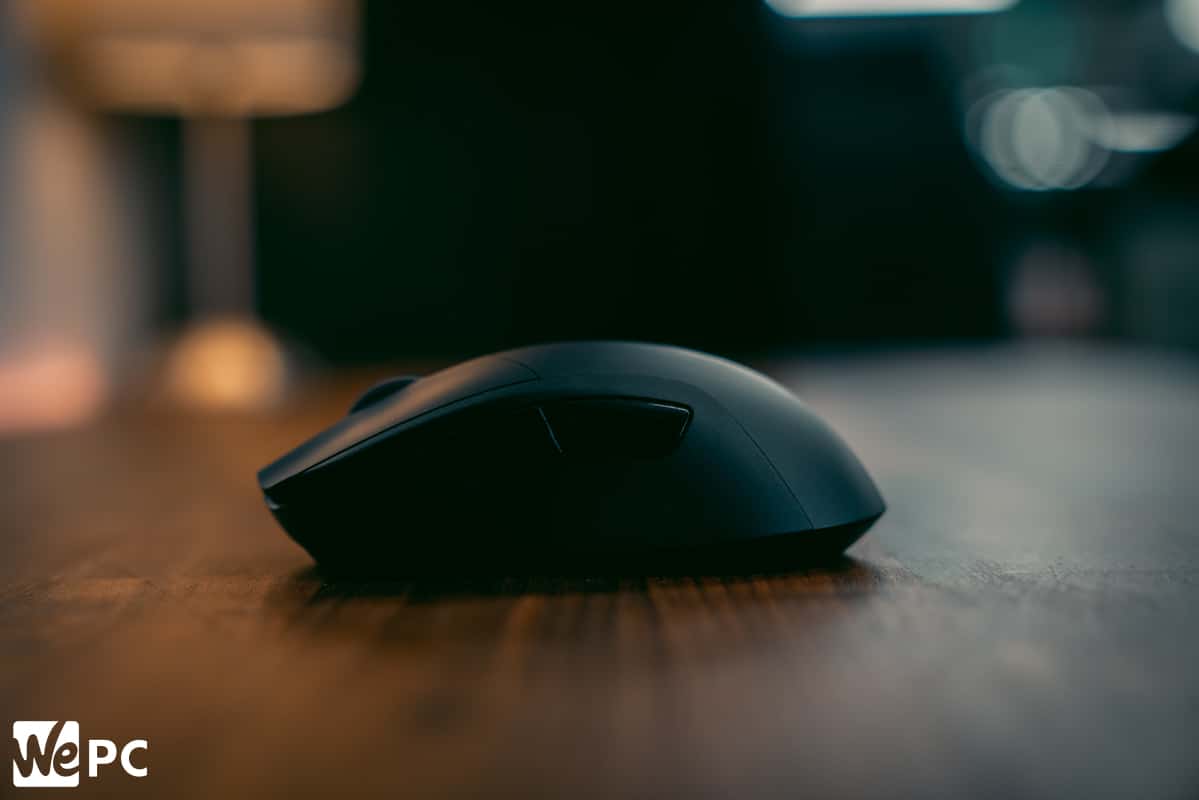 I was trying the entirely black G703, and when I said it looked exactly like the G403 Prodigy, I wasn't kidding. It's a medium-sized mouse, but the elevated body seems significantly more significant than the Razer Mamba, although it's smaller (by 2 mm). My natural palm grip eases into the slopes and groves of the shell, and the size is great for my hand shape. It's long (12.4 cm) and broad (6.8 cm) enough to keep my hand from hitting the desk when I'm playing. Its size is quite comfortable, and it's light enough to suit multiple grip techniques. However, claw and finger grip players may feel fatigued.
It weighs 107 grams, which isn't too heavy for the wrist, and you may add 10 grams of weight if needed. If you were to make this mouse richer, you wouldn't be able to utilize the wireless charging capability on the Powerplay pad. The G703 seems to be a mouse for everyone (right-handed), and as long as you don't have very tiny hands, I don't think you'll have any problems with how it feels.
Shape & Texture
The G703 has a straightforward design with a particular ergonomically designed casing. It has an appealing form, and my thumb fits snugly into the groove, allowing me to rest my ring and pinky securely on the broad slope. The body's 'Hump' is subtle and perfectly fits my palm, sloping up from right to left. Its form is identical to that of the G403, but the G603 has the same unmistakable shape and design. The mouse's body is rather hefty, and it feels somewhat higher in the palm than other mice. It tapers in at the side to accommodate your thumb and down at the significant buttons to accommodate your index and middle fingers comfortably. The primary buttons begin to curve vertically toward the mouse's midsection, producing a philtrum-like space where your mouse wheel may reside.
Like the G Pro, the outside shell is a smooth matte plastic that doesn't shift when I apply pressure to various sections of the mouse. The main mouse buttons are separated from the rest of the shell, unlike the G603. This is my preferred method since it seems more dependable, and although I doubt there is any discernible difference in actuation, I like it. Instead of additional grip pads, the mouse has a rubberized feel on both sides. The texture of the rubber is fantastic, and it helps preserve the hold on the mouse while still providing comfort. The mouse's surface seemed to repel sweat during extended gaming sessions, and I never lost control of the mouse, even while playing on low sensitivity.
Buttons
For the simple reason that they feel fantastic for quick clicking and produce a pleasant sound, the significant buttons remind me of the G Pro. They feature a low actuation and a large 50 million click life expectancy, thanks to the same switches as the G903. I never accidentally pushed either of the G703's two thumb buttons on the side, which are smooth and relatively big. For the first time, the thumb buttons felt solid and responsive while also being simple to press. Up top, the mouse sports a textured rubber scroll wheel with a tiny RGB strip running through it for a touch of glitz. The tactile wheel is not as smooth as the G900/903, but it is quieter and durable. Although there is a DPI switching button beneath the scroll wheel, I would have like to have two smaller buttons that would enable me to cycle up and down more quickly. It's worth mentioning that this mouse only has six buttons, none of which can be customized. Finally, an on/off switch is built into the base on the bottom.
Sensor & Performance
I expected a comparable level of performance from the G703 since it has the same PMW3366 sensor and switches as the G903, and it didn't disappoint. The PMW3366 sensor is significantly responsive and precise, which is why, until the HERO sensor came out, it was undoubtedly one of the most remarkable optical sensors. Throughout its 12,000 DPI range, the PixArts 3366 offers no smoothing, filtering, or acceleration.
The tracking was superb; the sensor never failed me whether I was tracing with my crosshair or snapping between two targets. I like the Turemove3 sensor in the Rival 650, but this is a suitable sensor that I could use regularly. While playing CSGO, I noted that long-distance taps requiring micro-adjustment were difficult for me, although this was most likely due to my unfamiliarity with the G703's weight. When zooming in on targets, I saw no jitter, and the mouse seemed stable with rapid motions thanks to a maximum IPS speed of 400. The steady accuracy of the sensor showed once I acclimatized to the mouse, and when paired with its ergonomics, it didn't seem like a new mouse at all; in fact, it felt like I'd been using it for months. If you use Logitech's surface tuning in the software, you can enhance the sensor even more; I can't say I couldn't see or feel a change, but that's not to say it didn't help. The G703 operates well, and regardless of your grip style or chosen game genre, I believe this mouse will satisfy you.
Connectivity
The mouse connects to the receiver through a 2.4 GHz wireless connection with no performance degradation. The G703 now has Logitech's Lightspeed technology, which is more responsive (in milliseconds) than a specific wired mouse. Lightspeed aims to eliminate the need for cables and provide gamers with a competition-grade wireless mouse. The technology offers end-to-end optimized communication with a 1ms report rate, and there is no discernible difference in response between wired and wireless mice.
Battery Life & Charging Time
The G703 takes around 2 hours to charge and will last roughly 24 hours if you play with the vivid RBG illumination on or a respectable 32 hours if you don't. You may experiment with the LGS parameters to make an efficient colorful hybrid if you like. The rechargeable Li-polymer battery seems to be sturdy. However, since it includes the PMW3366 sensor, it would drain the power much faster than a HERO sensor, so if you don't care about RGB, turn it off! Before digging out the charging wire, I managed to get a solid 2-to 3 days of work/gaming done. The braided cable is around 1.8 meters long and lies comfortably in the mouse, allowing you to return to 'wired' mode if necessary.
The G703's most exciting feature was its compatibility with Logitech's new Powerplay mouse pad. This new mouse pad included a unique solution to a long-standing issue with wireless rechargeable mice: battery life! The new Powerplay mouse pad connects to your computer and charges your mouse for the duration of its stay in the place (even when you play). Even better is that you won't have to set your mouse again, which means no more wires. The Powerplay comes with a tiny round puck (Powercore) that is identical to the one that retains the weight on the G703, but this one will connect to your new pad and charge when switched out! The 'Powercore' weighs 5 grams, so a conventional mouse pad would be a better option if this mouse is too heavy for you.
The section on Mouse Software
Logitech's gaming software, including the newest 'G-Hub,' is very user-friendly, and the more I use it, the more I believe it to be better than many other manufacturers. For example, the program allows you to modify the various default DPI choices and cycle between them using the DPI button. In addition, you may build macros, adjust the RGB lighting effects, or turn them off completely. You can also use the software to track your mouse's battery life and sync your G703 with the Powerplay to create a unified lighting display.
Conclusion
The G703 exceeded my expectations since I could be productive in-game immediately, and I frequently measure a mouse by how simple it is to use right away. It's designed for right-handed users (like myself), and when you combine its ergonomics with the high-quality sensor, it's difficult to find fault with this mouse. It's delightful to use, and I never had a cramp or weariness in my hands. The feet/skates were sufficiently large and curved to allow frictionless travel, and the switches were notably better than G603. Whether you're prepared to spend an additional £100/$100 on the Powerplay mouse pad or not, the investment is still worthwhile. Overall, it's a high-quality mouse that can be utilized in various games. If you're looking for outstanding performance and exceptional wireless capabilities, this right-handed beast is one to consider.
Frequently Asked Questions
Is G703 reliable?
A: G703 is reliable.
How long does a Logitech G703 last?
A: Logitech G703 lasts around 7 hours on battery with regular use and can last even longer by using the power bank.
What's better, G703 or G305?
A: The G703 is much better suited for a headset than the G305, which is meant primarily as a mouse.
Related Tags
logitech g703 white
logitech g703 lightspeed
logitech g305 review
logitech g703 price
logitech g703 vs g pro wireless