Corsair is a leading manufacturer of PC gaming peripherals, and their latest mouse is designed to match up with any high-end computer. This new model has features that make it stand out from the crowd, like its adjustable weights system and customizable RGB lighting.
When looking for a new case, power supply, or keyboard, I typically look for Corsair, but not usually mice. Corsair has struggled to compete with other manufacturers in the mouse market, but with the Corsair Glaive, we now have a mouse that can compete with the Deathadder Elite and other mid-range ergonomic mice. The mouse's pricing reflects this intention to compete, with a suggested retail price of roughly £50/$50, making it comparable to the DA Elite but still less expensive. In addition, the mouse boasts a solid sensor and a slew of valuable capabilities, all wrapped up in a premium-feeling package.
The mouse has a great design and several significant functions. Some could call this mouse plain, but I'm afraid I have to disagree. It's basic, but it's also one of the nicest-looking mice you can purchase for the money. It's probably one of the nicest-looking mice Corsair has ever produced, and it performed well given its low price. It comes with some easy-to-use software and a little personalization, which makes this mouse a good deal.
Pros
Ergonomic Shape – Sits in hand nicely.
Attractive mouse design
Performance – Reliable and accurate sensor.
High-Quality – The product is well-made and has a sturdy feel about it.
Intuitive and user-friendly software.
Grip – Interchangeable grips
Cons
Clicking on the wheel is difficult.
Only for right-handed people.
Mouse Size & Weight
120g in weight
Large in size
12.5 cm (4.9 inches) in length
9.1 cm – 3.5-inch width
4.4 cm – 1.7 inches tall
Right-hand orientation
Mouse Technology
Optical sensor: PMW3367
Omron buttons (50M)
200-16000 DPI
125/250/500/1000Hz polling rate
Wired connection
Braided cable
The cable is 1.8 meters long.
What is included in the box?
Corsair's packaging is consistently good quality, and simply glancing at the box gives you the impression that you've purchased a long-lasting product. The box is mainly black, with a splash of the traditional yellow that appears on almost every television. On the front, the items are shown, with mouse characteristics and specifications on the surrounding space.
We have the following items on the inside:
Glaive RGB gaming mouse from Corsair
Two more thumb grips
Getting Started Guide
Size & Weight
When you first glance at the Glaive, it doesn't seem to be much bigger than your other ergonomic mouse, but as you lay your palm on it, you'll notice it's enormous! It's just 12.5 cm long, which is shorter than the Deathadder, and you'd have a hard time telling them differently if it weren't for Corsair's somewhat odder shape. The width is 9.1 cm, making it one of the broadest mice I've ever used. However, the breadth was comfortable, and the mouse felt tight when held, despite its size. The Glaive is the same height as the DA Elite at 4.4cm, but they both have a delicate bow-like curvature on the top that makes the mouse seem smaller than it is. Because it's not very lengthy, it's best for medium-sized hands, but this might be a fantastic alternative for you if you have broad hands. Because my hands are 11cm wide, this mouse is just about the correct size for me to use in-game.
The mouse weighs 120 grams, more than 20 grams more than the DA Elite and EC1-B mice. Despite its heavier weight, the mouse glides quickly on the pad, and since it has a tight grip, it feels like an extension of my hand and is relatively light. The weight seems to be evenly distributed, and the mouse has a lovely balance, which I believe contributed to a more consistent experience. The mouse's overall size and weight suggested it was designed for medium-sized hands, but I do not doubt that a giant hand could operate it well with a hybrid claw/palm grip. This mouse is readily palm or claw gripped by small and medium-sized hands, yet it glides smoothly enough for fingertip holding gamers. If you want a heavier mouse but enjoy the sound of the Glaive, don't worry; you can order the Aluminum version, which is 7 grams more serious, so you have a choice.
Shape & Texture
The Glaive looks like a cross between the Rival 600 and the Razer Deathadder, and you can tell right away when you pull it out of the package that the form was created with comfort in mind. It has somewhat higher main buttons than the Rival 600 or FPS Pro, but the same smooth ergonomic curvature that makes these mouse very comfortable for right-handed gamers. It slopes down rather steeply, but there are no corners or bumps to grab on your hand, so it's easy to hold. My hand automatically wraps around the mouse, blanketing it, and it's been a pleasure to use. Regardless of whatever replaceable grip you select, the Mouse has a dramatic drop down on the left where we see some additional design elements and it tapers in to provide you a ledge for your thumb. The replaceable grips have no effect on the design and I found all three to be pleasant to use, but my favorite was the textured one with an indentation since it provided me a little more control while being comfortable. The mouse comes with a straighter side grip by default, but it also includes an arched side grip that enables you to rest your thumb parallel to the pad, much like the Dark Core.
The Glaive is made entirely of smooth, soft-touch matte plastic with some unique grooves etched out to let the RGB stand out more. The default grip that comes with the device has the same texture, which provides excellent grip but collects a little more dirt than smooth plastic. The material is pleasant to the touch and contributes to the mouse's overall comfort. The other grips have a textured rubber surface comparable to the right-hand side of the mouse, providing a secure grasp for all of your fingers. A smooth reflective strip of plastic runs along the left side of the mouse, serving as an aesthetic element and housing one of the Glaive's three RGB zones.
Buttons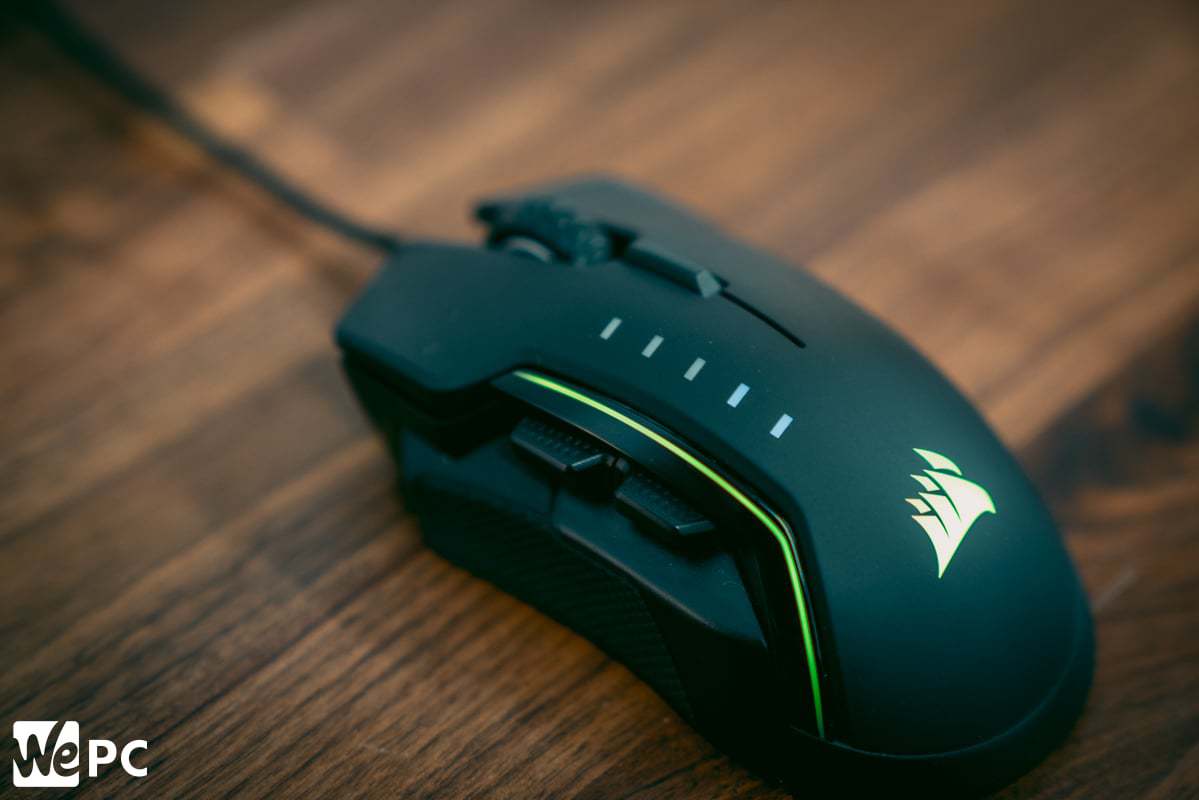 The Glaive has a total of 6 programmable buttons, which is about average for an ergonomic mouse designed for FPS gamers. The principal buttons are built into the main shell and include Omron-developed switches with a 50-million-click lifespan. The switches feature a light actuation force and a pleasing clack. Despite being part of the main shell, I saw no performance difficulties or significant differences from spit trigger mice. The buttons flatten out from the center, making them quite pleasant to rest on, and there was no inadvertent clicking, indicating that they are properly constructed.
A clickable scroll wheel sits between the major buttons and looks and feels quite solid and hefty. It resembles a little off-road tire and provides a minimal tactile touch while scrolling. The wheel has no RGB, although there is a faint glow from the RGB beneath it in a dark setting. The wheel has a solid meaty click to it, although it's a little stiffer than I'd prefer, and it's not ideal for short commands in-game.
Your DPI button is located behind the wheel, enabling you to adjust DPI settings on the fly. The actuation power of the button is pleasing, and the click generates a lovely sound. It cycles up through DPI settings, however, there is just one way to cycle since there is only one button. You may modify the default DPI selections in the software if you like, but it's convenient that it comes with five possibilities to choose from. There's also a lovely line of LEDs that looks like a mini volume meter and shows you the DPI level you're on. Regardless of the grip types I attempted, the button remained out of the way and could not be accidentally pushed.
The Glaive has various unusual side buttons, mainly owing to the placement of the buttons. There are two thumb buttons, which seem to protrude from under the shell, immediately above the grip panel. The buttons were in a nice place, with very little travel. I just used this mouse for FPS games, and I didn't use my thumb buttons for anything other than picking grenades, which they did rather well. Your experience with these side buttons may vary based on your hand size and grip style, however, I noticed that the straight replaceable grip made clicking the side buttons more difficult because of its definite straight edge.
Cable
The Glaive's cable is braided. The braiding is smooth, and my cotton pad didn't appear to cause any friction when I was wearing it. It took some time to sort out the bends from the packaging, but I used a bungee and didn't notice any issues with the cable. It's 1.8 meters long and thick enough to fit in most bungees, but it, like the rest of the mice, slipped through the inexpensive bungee.
Sensor & Performance
The PixArt 3367 sensor, which is basically a refined version of the PMW3360, is used in the Corsair Glaive. The differences in the sensors are scarcely discernible, but even if it isn't the most recent, it is still considered one of the best sensors. So, at roughly £50/$50, the sensor isn't terrible, and it can go up to 16,000 DPI if necessary. Overall, the performance was superb, and the mouse was jitter-free. I couldn't get the sensor to spin out no matter what DPI I used.
When I first got into the game, I noticed how accurate the sensor was, and since the design is so comfortable, it didn't take long for me to become accustomed to this mouse, despite its weight. The sensor functioned well in all games, whether I was following looters in PUBG or sweating out a clutch in CSGO. The Glaive is surprisingly agile, considering its size and weight, and the mouse feels smooth. The meaty mouse felt fantastic for latching onto targets, but owing to the size of the mouse, I struggled when I had to flick up and down a little more than usual.
The Glaive is fantastic, and its breadth makes it seem like a one-of-a-kind ergonomic alternative, but if I were to be fussy, I'd want it to be just a smidgeon smaller. The mouse provides an extremely smooth experience and boasts an IPS speed of 450, allowing the sensor to track at insanely fast rates.
Software for Mouse
The Glaive runs Corsair's iCUE software, which is well-designed and simple to use. It's on par with the best software available from manufacturers, and I've had a lot of fun learning how to use it over the past week. Of course, you can customize the lighting zones and make your regular performance modifications in the program. If you require it, it includes an easy-to-use surface calibration tool. You can also use the DPI button to cycle between the various DPI levels you've selected.
The mouse has three vibrant RGB zones, with the RGB on the front of the mouse being particularly beautiful. With the room lights turned off, the mouse is a work of art on the desk, and you may alter the various effects if you choose. The rain effect was unique since I had never seen it with other mice. You have cross-device synchronization, which means you can sync up all of your Corsair peripherals and transform your room into a party.
Conclusion
The mouse has a fantastic overall feel to it. The sensor operated flawlessly during my tests, and when combined with the tremendous ergonomic design, you have a technically superb mouse for competitive FPS. It may be hefty for some, but it's one of the most acceptable mouse I've used because of its unique design and vibrant RGB. In addition, it has some excellent grip personalization, which is a nice touch. This is available for under £50/$50, making this a significant value and a likely contender.
Related Tags
corsair mouse
corsair glaive rgb pro software
corsair glaive wireless
corsair claw grip mouse
corsair iron claw review