The Sahara C500 series PC case is a budget-friendly option for beginners or anyone looking to upgrade from an older model. The design features two front-panel USB 3.0 ports, four external 5.25″ drive bays, and one internal 3.5″ bay with room for multiple SSDs/HDDs without sacrificing cooling performance in the process.
The C500 series mid-tower PC case is one of Sahara's newest gaming cases, and we'll be sitting down with it today. There are three sides of tempered glass, a plethora of mounting points for fans, water-cooling accessibility, good cable management choices, and more when it comes to shelves.
Nonetheless, this is still a situation that falls within the budget heading. But, of course, compromises were made along the way, as they are in all cheap PC cases.
We're here to check how the Sahara C500 compares to some more reasonably priced rivals. We'll also look at how it feels to create in, take a deeper look at the features, and decide if it's worth your hard-earned money.
Pros
There are several mounting locations for fans.
AIO coolers + access to water cooling
There's plenty of room for cable management.
Three glass panels add to the appeal of the design.
It's elementary to construct in
Cons
Build quality in locations that seem to be on a budget
The screws used to fasten the side panels don't quite line up.
Fans, despite their attractiveness, maybe obnoxious.
Specifications
| Case Type | Mid-Tower |
| --- | --- |
| Measurements (mm) | 400 × 215 x 465 pixels (W x D x H) |
| Materials | Steel, plastic, and tempered glass are some of the materials used. |
| Available colors | Black |
| Weight | 8.5 KG |
| I/O panel in the front | Microphone, Headphone, Reset Button, Power Button, 2 x USB 2.0, 1 x USB 3.0 |
| Slots for Expansion | 7 |
| Bays for driving | Up to 5 2.5″ drives and two 3.5″ drives are supported. |
| Support for motherboards | ATX, Micro-ATX, and Mini-ITX are all types of motherboards. |
| Cooling (front, back, and top) | 3 x 120/140mm (2 x 140mm included)/ 1 x 120/140mm (1 x 140mm included)/ 3 x 120/140mm (2 x 140mm included)/ 3 x 120/140mm (2 x 140mm included) |
| Clearance for CPU cooling | 180mm in System 1 |
| GPU's maximum length | 360° with front-mounted fans |
What is included in the box?
The case was packaged in a conventional brown box with some basic artwork on the front and specs along the side. The C500, like other cases, comes with two pretty sturdy polystyrene safety shields. The case was inside, covered in plastic, with additional protection within the topic itself.
This case is available with a variety of purchasing options, including the following:
Sync RGB and Standalone RGB + Case + 4 x 12cm ARGB Pirate Turbo +
Sync RGB and Standalone RGB + Case + 2 x 20cm ARGB Tornado fans
Sync RGB and Standalone RGB + Case + 3 x 14cm Typhoon ARGB fans
Sync RGB and Standalone RGB + Case + 4 x 12cm ARGB Duo Rings
We received a shipment including 4 x 120mm ARGB Pirate turbofans, 3 x 140mm Typhoon ARGB fans, a controller box, and a Sahara CPU cooler, all of which will be discussed in the following tutorial.
A package of additional screws was also sent, which comprised fan screws, wires ties, and long screws.
Design
The Environment
The C500 seems to be rather good at first glance. It has three tempered glass panels (front, side, and back) that provide a sleek and sophisticated design right away, which is an excellent advantage for me. The glass is reasonable and has a more opulent feel than the pricing suggests. Lift the front panel from the bottom with force to remove it. This allows users to see where the fans are mounted. The I/O ports are located on the top of the casing, giving the front a sleek finish.
The front glass panel and the beginning of the casing have a significant gap, as you can see in the photographs. This leaves enough area for fans and an AIO cooler (up to 360mm) to be mounted without obstructing airflow.
Rear
Compromises have been made along the way to keep prices low, as you'd expect with a case at this pricing range. The expansion slot covers, for example, are detachable, which means you won't be able to rejoin them after you've used them. This isn't a big deal for most individuals, but it's something to think about if you switch out gear often. In this situation, a mounting mechanism has been provided, which some individuals find handy. That being said, I just found it inconvenient.
Depending on your option, the rear fan mount may accommodate a 120mm or 140mm fan, ideal for a case at this price range.
Side on
Two thumbscrews hold the side panel in place, which, to be honest, felt a bit cheap. Let's just say it took a fair amount of power to unscrew them. Users must utilize a "pop slider" that Sahara has installed on the back of the case to obtain access to the interior of the matter – something I loved as far as "small" features go. Use the slider for popping the tempered glass side panel off after the screws have been removed. Once the board was released, it felt a little awkward in its home, which sets the tone for some of the build quality on offer in this case.
The Top
The top of the case is out of the ordinary. On the case roof, you may install a radiator (up to 280mm), two 140mm fans, or two 120mm fans. Sahara has cleverly placed the radiator mounting point to avoid interfering with the motherboard's VRMs, your RAM kit, or the CPU cooling. Sahara, you've done a fantastic job. On top of the mounting point, there is a magnetic dust filter. Near the front is the I/O panel, including USB 3.0, USB 2.0, 3.5mm headphone jack, Microphone port, reset, power, and an RGB LED button.
Compared to similar-priced cases, the buttons all seem robust and are easy to operate for the most part. The LED and reset buttons are slight, but not so insignificant that I consider them a disadvantage.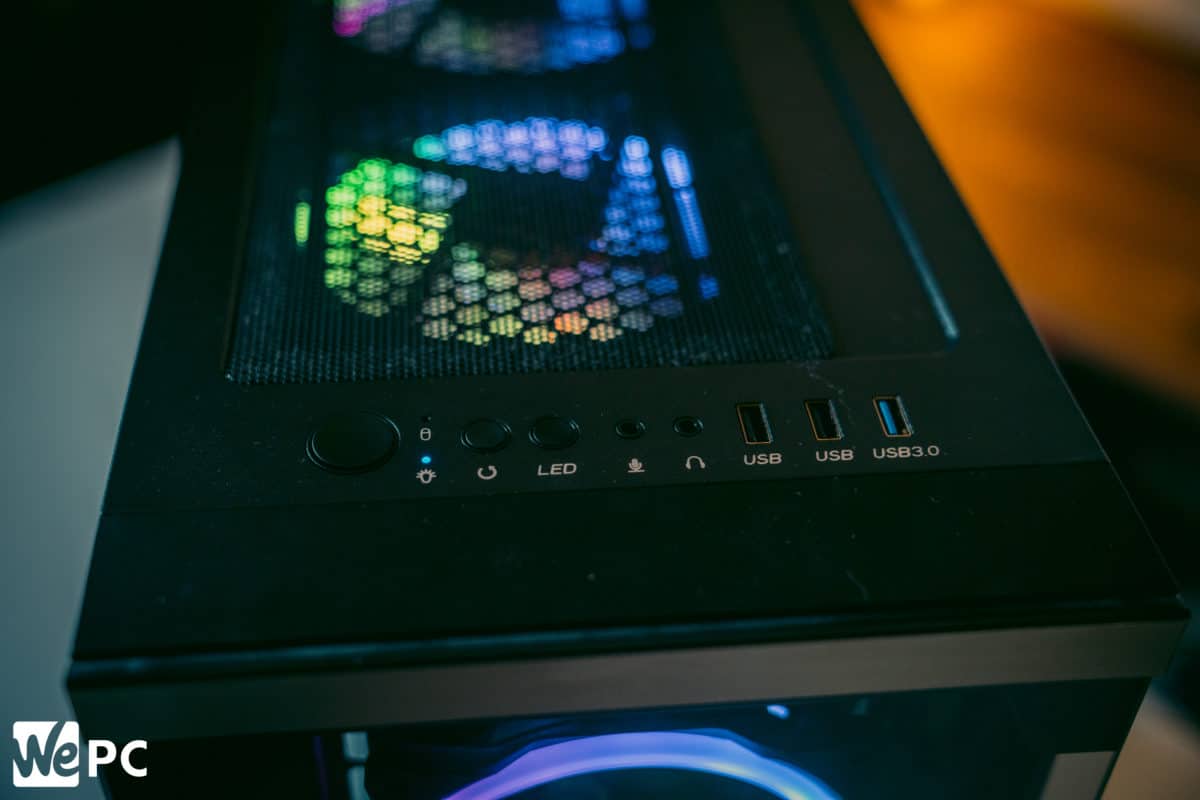 From the Inside
The accessibility for cooling and cable management was one of the first things I noticed about the inside of the C500. Sahara has addressed some of the difficulties identified in their previous budget offers, which is quite promising. The chassis seems to be well-made, with steel being used most. ATX, Micro-ATX, and Mini-ITX motherboards are all supported, with ATX and Micro-ATX being the best options.
Users will be able to attach two 120mm fans on the PSU shroud for internal cooling, which is ideal if you want the most airflow possible. Furthermore, the inside has been thoughtfully designed for simplicity of construction, with a plethora of cable cut-outs accessible. However, Sahara hasn't included any grommets in this case, which is to be anticipated for an issue at this price point.
The Panel on the Back
The inside rear has also been thoughtfully designed to help the construction process go more smoothly. The cables for the I/O ports are all black and long enough to enable users to choose from various cut-outs based on their desire. On the other hand, the HD Audio wire barely reaches the slot on the motherboard, but it can be cable handled with a little push. The PSU housing is wide open, with a clearance of up to 170mm. A 3.5mm HD mount is hidden under the shroud, with the ability to add a second on top of it. On the back of the chassis, there is also an SSD caddy. However, the SSD is quite near to the tempered glass panel when completely mounted, which may be a concern for certain users.
To round up the package, Sahara has included lots of tie bases in the back to help with cable management – something you'll certainly want to do given how transparent it is.
Features
When you consider the price of this case, you may expect it to be weak in terms of functionality. That isn't always the case, however – pardon the pun. The features included in this case are one of the reasons we believe it offers excellent value for money. The following are some of the C500's standout features:
Design – The case has obviously undergone extensive quality control to ensure that some of the previous flaws were addressed. At first sight, they seem to have done a decent job with the design. It was simple to install and provided enough cable management for cleaning up at the end. With plenty of area for fans on the front, back, base, and top, this case made cooling a breeze. There was a little snag while attempting to feed the CPU power cord through the cutout, but otherwise, everything went well.
Water cooling — According to Sahara, this case was created with water cooling in mind, which is fantastic. It includes mounting points for up to a 200mm reservoir. However, having used this case for a build, I'm very confident in stating that if water cooling is important to you, this isn't the case for you. The cost of achieving water cooling is high. You should definitely pick a case that is a bit more premium and has the extra features required for water cooling, in my opinion. However, it does provide water cooling, which is something that most similarly priced cases do not.
Fans — Depending on the plan you choose, one of the major pluses for me was the availability of fans. Whether you choose the 4 x 120mm or 3 x 140mm kit, you'll be pleased with the ventilation and RGB they deliver. These fans, particularly the 140mm kit, can really crank up the airflow to lower interior temperatures. However, keep in mind that they may be rather loud at maximum capacity. In terms of RGB, all kits have the identical amounts of RGB, which looks fantastic. You'll have a lot of possibilities, which you can manage using the RGB controller or the LED button on the I/O panel.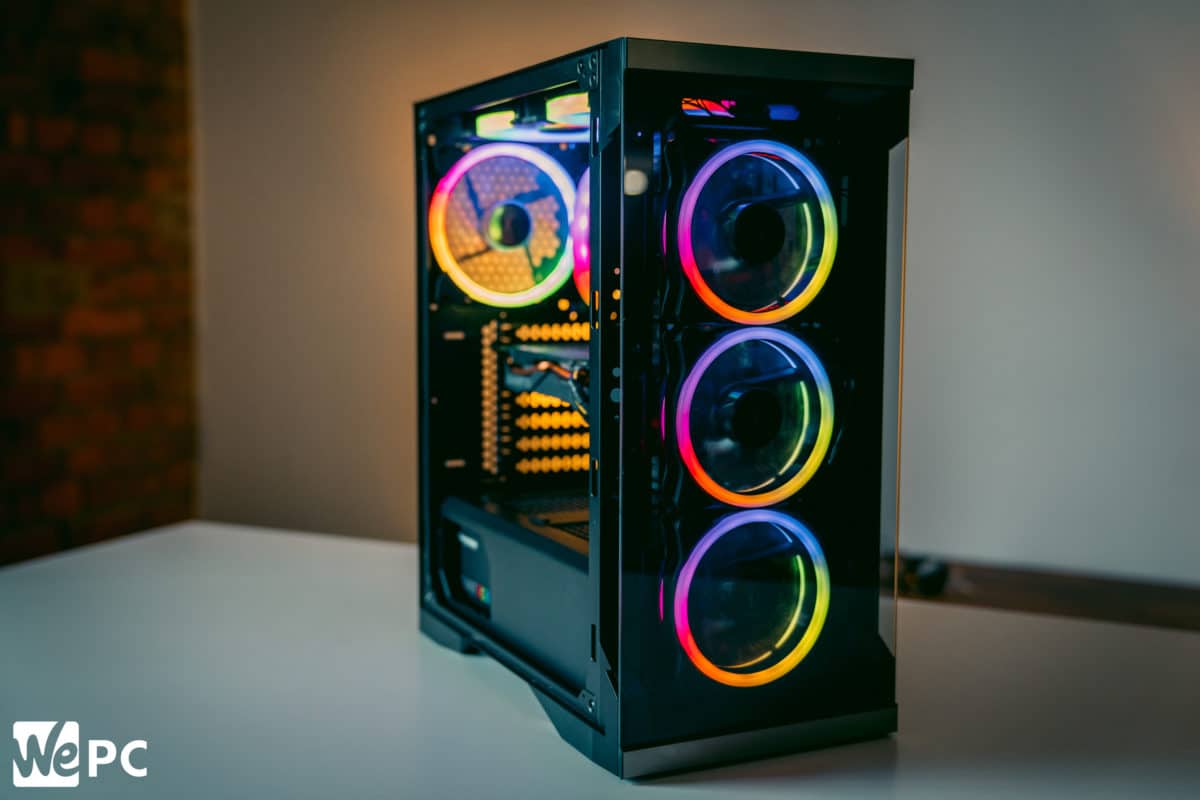 Conclusion
You may assess this case in two ways: its visual appeal and construction quality. Unfortunately, the C500 fails to meet both criteria in this instance. But first, let's look at the advantages.
Sahara has created a pretty good design for this case, in my opinion. First, the tempered glass gives the patient a premium feel than you'd expect from an issue at this price range, which is a significant advantage. Second, the fans are beautiful and provide a wide range of RGB customization options. Finally, even though they are a touch noisy, they function well with tempered glass and provide significant airflow.
The casing seems to be a touch flimsy in certain spots in terms of drawbacks. The holes used to screw the panels into place, for example, do not line up correctly, which is a major annoyance for me. Some interior elements, particularly the rear pop mechanism and mounting guard, are also a touch tacky. If truth be told, the cutouts inside were well thought out, but some of them were much narrower than I'd like and were a real headache to reach — with others being entirely out of bounds after the fans were mounted. Finally, when the glass back panel is put into place, it is unusually near the wires, making cable management more difficult.
I felt this case offered excellent value for money with that in mind. It has a fantastic look, one of the nicest in its price range, and some well-designed features on the interior. However, given some of the case's poor build quality, it may not be everyone's first pick.
In any case, we hope you liked our in-depth examination of the Sahara C500 gaming case. If you did, please leave a remark in the box below. Better still, visit our Community Hub, where you can discuss all things case-related with other like-minded people!
Related Tags
mid-tower case
pink pc case
corsair pc case