The Razer Deathadder Elite gaming mouse is a sleek, ergonomic device that provides the most responsive and accurate tracking of any current-gen mouse. This review will give you an idea of whether it's worth your hard-earned money.
To offer gamers a great weapon at their disposal, Razer has matched its award-winning mouse form and put the most sophisticated sensor they've arguably ever had into the new Deathadder Elite.
Razer's newest edition of the slithery creatures product line, which has been in our stores and (some) hearts for over ten years, is the Deathadder Elite. Because of its fantastic ergonomic design and dependable performance, the Deathadder has been considered one of the top gaming mice since its first debut. Performance has been improved in the latest version, but the design and weight have remained the same.
The Deathadder Elite replaces the DA Chroma and includes the PMW3389, a custom-made sensor developed by Razer and PixArt that offers 16,000 DPI. A few more buttons for on-the-fly DPI change are included in this latest version. It weighs 96 grams, which isn't awful, and puts it in the center of the pack compared to others. Because of its unique design, the Deathadder is suitable for a wide range of hand sizes and grip styles. Even though it was introduced in 2016, this enhanced version is still available for roughly £60/$60, making it a reasonably priced premium E-sports gaming mouse.
Pros
The ergonomic form makes it more comfortable.
High-quality sensor – Excellent performance
User-friendly software – Intuitive software
Thumb buttons are high-quality and immensely useful.
Cons
Software-Required — Software is required for a customizable DPI/polling rate.
Right-Hand Only — Unlike the 2013 edition, there is no left-handed option.
Mouse Size & Weight
96g in weight
Medium in size
12.7cm – 5 inches in length
7cm – 2.7-inch width
4.4cm – 1.7 inches tall
Right-hand orientation
Mouse Technology
Optical sensor: PWM3389
Omron switches that were co-developed (50m)
DPI (dots per inch): 100-16000
Polling Frequency: 125, 500, and 1000 Hz
Wired connection
Braided cable
2.1 m cable length
What is included in the box?
There's nothing new about the package. The product is shown on the front of the box, which is black with a beautiful bright green accent.
We find the following items inside:
Deathadder Elite mouse from Razer
Greetings letter
Instructions for Use
Size & Weight
The Deathadder Elite is the same size as the previous version, measuring 12.7 x 7 x 4.4 cm and fitting medium-sized hands. Some people think it's a little lengthy, yet it's just a centimeter shorter than the Zowie EC1-B while having the same width and height. It's a nice size and fits snugly in my hand; the 1mm length difference from the EC1-B is noticeable. When I'm leisurely surfing, I can rest my palm and write on the mouse without contacting much of the mouse pad. The gently rounded hump in the center helps me lean with my knuckles and provides additional grip comfort for gaming. The mouse is great for my hand (18×11 cm), but if you have long hands, don't be put off; its shape feels long enough to accommodate more extended hands while being wide enough to support even the thickest of sausage fingers.
The Deathadder is a mouse for everyone, with a weight reduction of roughly 40g compared to its previous iteration (148g), which is significant. However, it doesn't seem heavy at all, and since the design is so readily grabbed, it could easily be used by a gamer with tiny hands. The Elite weighs the same as the Rival 600, but it seems lighter because of the larger feet on the bottom, which are now two huge strips similar to the Mamba, enabling the mouse to travel more freely. The Elite's weight is substantial enough to feel it pressing around the mouse, yet light enough that it glides easily and aids in quick fragging.
Shape & Texture
The Deathadder mouse series is ergonomically built to fit in your right hand, and it reaches high prestige by being perhaps one of the most fantastic mouse forms available. Because of its basic design and high-quality finish, the Elite is a beautiful mouse. It is laced with gentle curves and sloping bends to provide the best in comfort. The thumb groove looks the right size for my thumb, and it has rough rubber grips to keep your hand firmly attached to the gadget. The grips have a nobbly hexagonal pattern and feel like they're part of the mouse instead of being glued in place (which they are). When you grab the mouse, the elevated center of the mouse rests directly under your knuckles, giving you a sense of total control. The DA Elite has a gentle slope to the front, enabling your fingertips to nestle in the button grooves.
This version's matte black finish is consistent throughout and is no longer a variety of materials or hues. Even with the last resort of 180 flick shots, this mouse won't fly out of your hand, thanks to the matte surface, rubber handles, and great design. The silky finish is excellent, especially for those who have a sweatier palm. The top shell is made entirely of a single piece of thin, strong plastic that feels quite solid. I shook and squeezed the mouse to check if anything was loose or weak, but there were no problems.
Buttons
The Elites' principal buttons are made using Omron switches that have been co-developed and have a 50 million click lifespan. They have superb actuation and an audible click that is quite gratifying. The primary buttons are part of the mouse's main shell, but this didn't cause any problems, and the switches were still readily clickable when I moved my fingers closer to the center of the mouse. I did accidently touch the right-hand main button a couple of times when in full palm grip, but it was while surfing the internet, not while playing.
As you'd imagine, there's a clickable scroll wheel in the centre of the switches that you can program. While you scroll, the wheel provides tactile input and does it practically quietly, which I enjoy since the new Zowie EC series is way too noisy when scrolling. The wheel has a beautiful rough rubber feel that provides more traction.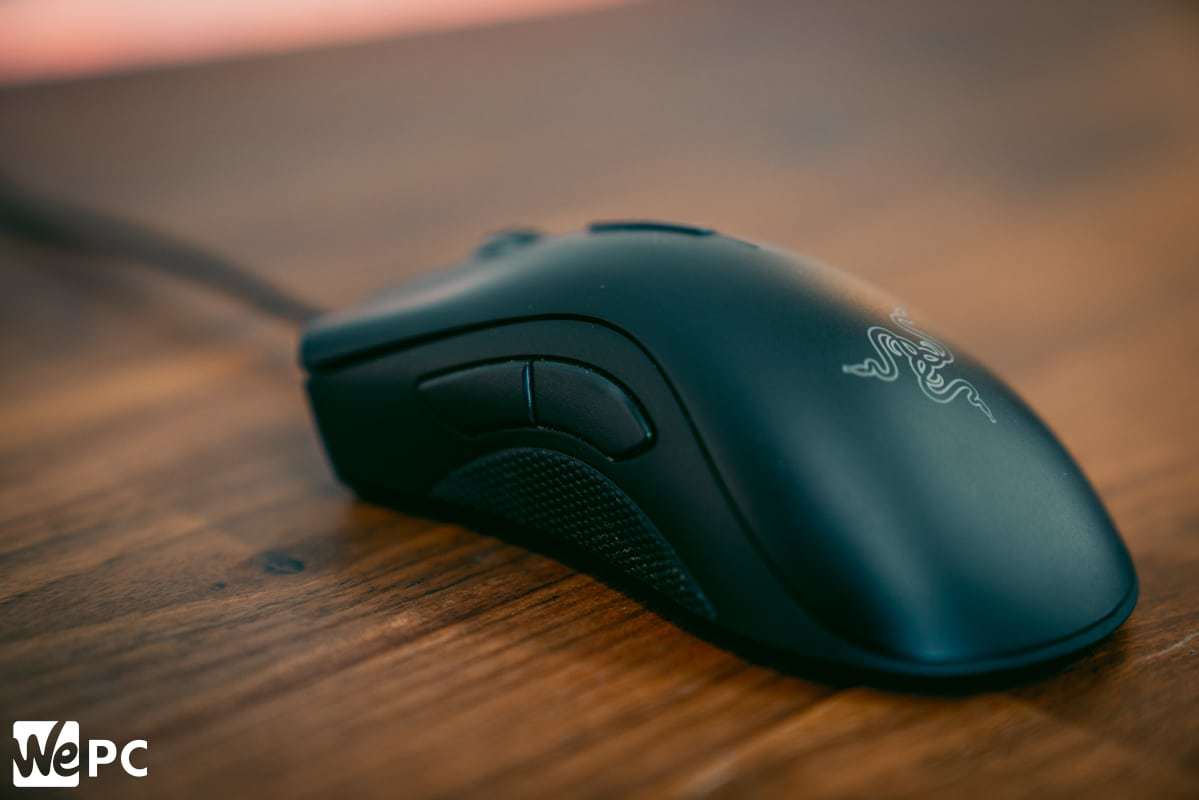 Two DPI buttons, which we see on a lot of Razer mice these days for on-the-fly modifications, are sat behind the wheel, which are only really helpful in select games like Overwatch, but if you've ever used a'sniper' button in the past, this may replicate that without being as handy. I don't change the DPI because it's been the same for over a decade, but they have a nice responsive click and work, so no complaints.
The Deathadder Elite's side buttons are excellent, and arguably the finest in terms of ease of use when compared to another mouse. They are located just above your thumb and, depending on your grip, you may already be touching them. It's the location of the buttons that makes them, so simple to use; all I have to do is roll my thumb up to either one when I need to use it. They have a solid feel and don't slide about as much as other cheaper mouse buttons. I swiftly used the side buttons to choose grenades in CSGO, and they never let me down.
Cable
The cable is 2.1 meters long and braided, much like the rest of the Razer mouse. The braiding is pretty tight and provides the cable with a reasonably smooth feel. Thus, it snags less than other braided cables I've tried. Although the braiding offers additional protection, my wires are no longer damaged or snagged since I utilize a bungee. They can, however, collect dust, and most braided cables are more challenging to clean than non-braided cables. Still, to be fair to Razer, the cable's advantages exceed the disadvantages. I only use wired mice with bungees (it's a personal rule), and the low-budget bungee wasn't very effective, and the cable was sliding up and down like a fireman. All of the other bungees I tried, on the other hand, held the cable properly without sliding.
Sensor & Performance
It's becoming rare to find a respectable mouse above £50/$50 with a lousy sensor these days, and the latest Deathadder has some fantastic performance beneath the shell. It has the slightly altered PMW3389 sensor that we've seen in several of Razer's recent mice. If you ever need it, the sensor can go up to 16,000 DPI, but more crucially, it has an IPS speed of 450, allowing you to follow objects at superhuman speeds.
In-game, the sensor performed well, with no smoothness or jitter. I mostly play FPS games, and this mouse performed well in CSGO, owing to its unique design. However, the sensor did not disappoint, and I found snapping to targets simple after getting accustomed to the mouse's weight. I didn't detect any weird motions from my crosshair while zooming in on objects, even on my ancient mouse pad. In addition, I didn't receive any spin-out from the sensor when performing quick mouse movements. The sensor's accuracy and the mouse's ergonomic design offer you an accurate weapon in your hands, and it's undoubtedly a mouse worth getting accustomed to if you haven't already.
Software
The DeathAdder comes preprogrammed at the lowest DPI setting (800), so you could never use the software if you wanted to. However, to fully customize your device, you'll need to install Synapse, which has become more uncomplicated and more dependable in recent years. If you already have Razer Synapse installed on another device, any additional Razer devices will be recognized and installed automatically. In addition, you may use the program to check for updates and customize the mouse to your liking. You may also have the program update device drivers for you automatically.
Conclusion
The Deathadder Elite is a fantastic mouse in general. It's worth noting that a mouse with a comparable spec like the Hyperx Pulsefire Pro might be had for less, but would it have the same design and materials? No. I don't think the Deathadder is overpriced, and although Razer does charge a premium, I believe this mouse is well worth it. It has one of the most comfortable forms I've ever used in a game, and it's so unique that it seems natural in all of my games, not just FPS. The new polish and improved grip significantly improve over previous models since the mouse now constantly sits in my palm and is challenging to lose hold of. It doesn't have as many programmable buttons as another mouse. It doesn't have any aesthetic customization, but this high-performance snake is the deadliest I've ever touched and should be regarded by the public!
Frequently Asked Questions
Is Razer DeathAdder Elite gaming mouse good?
A: Razer DeathAdder Elite is a high-end gaming mouse with an excellent DPI and sensor. It has a 2ms response time, allowing more excellent responsiveness during gameplay.
Is Razer DeathAdder Elite good for FPS?
A: The Razer DeathAdder Elite is a good mouse for FPS. It has adjustable DPI settings and well-designed responsive buttons, making it easy to use while in the heat of battle.
Which is better, Razer DeathAdder Elite or essential?
A: The Razer DeathAdder Elite offers a much higher DPI than the essential. This makes it easier to aim at opponents or hit targets further away.
Related Tags
Razer DeathAdder elite v2
Razer DeathAdder elite vs. v2
Razer DeathAdder elite white
Razer DeathAdder v2 review
Razer DeathAdder elite specs